M&A Kickoff Module: "Frank Talk" Theme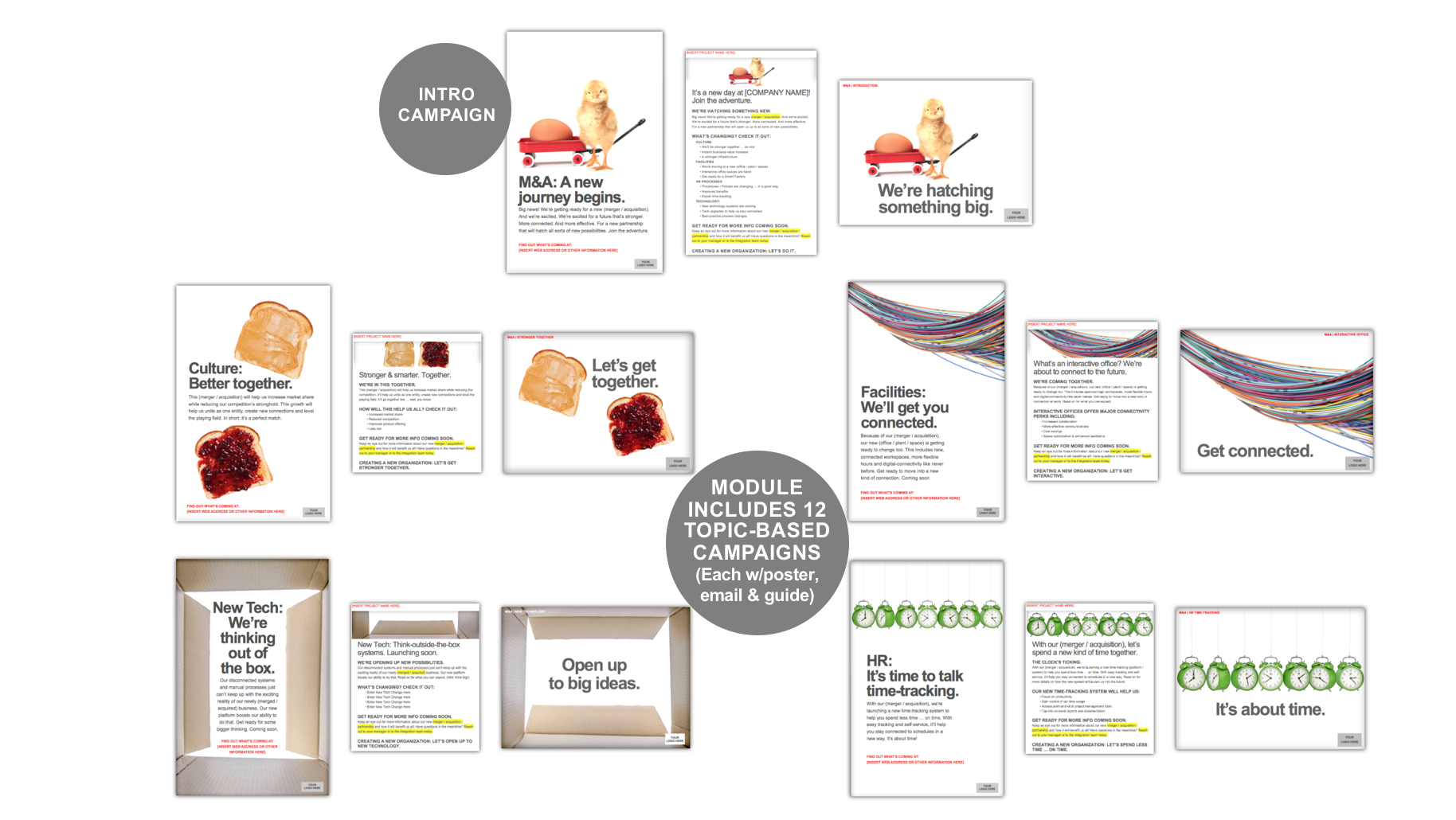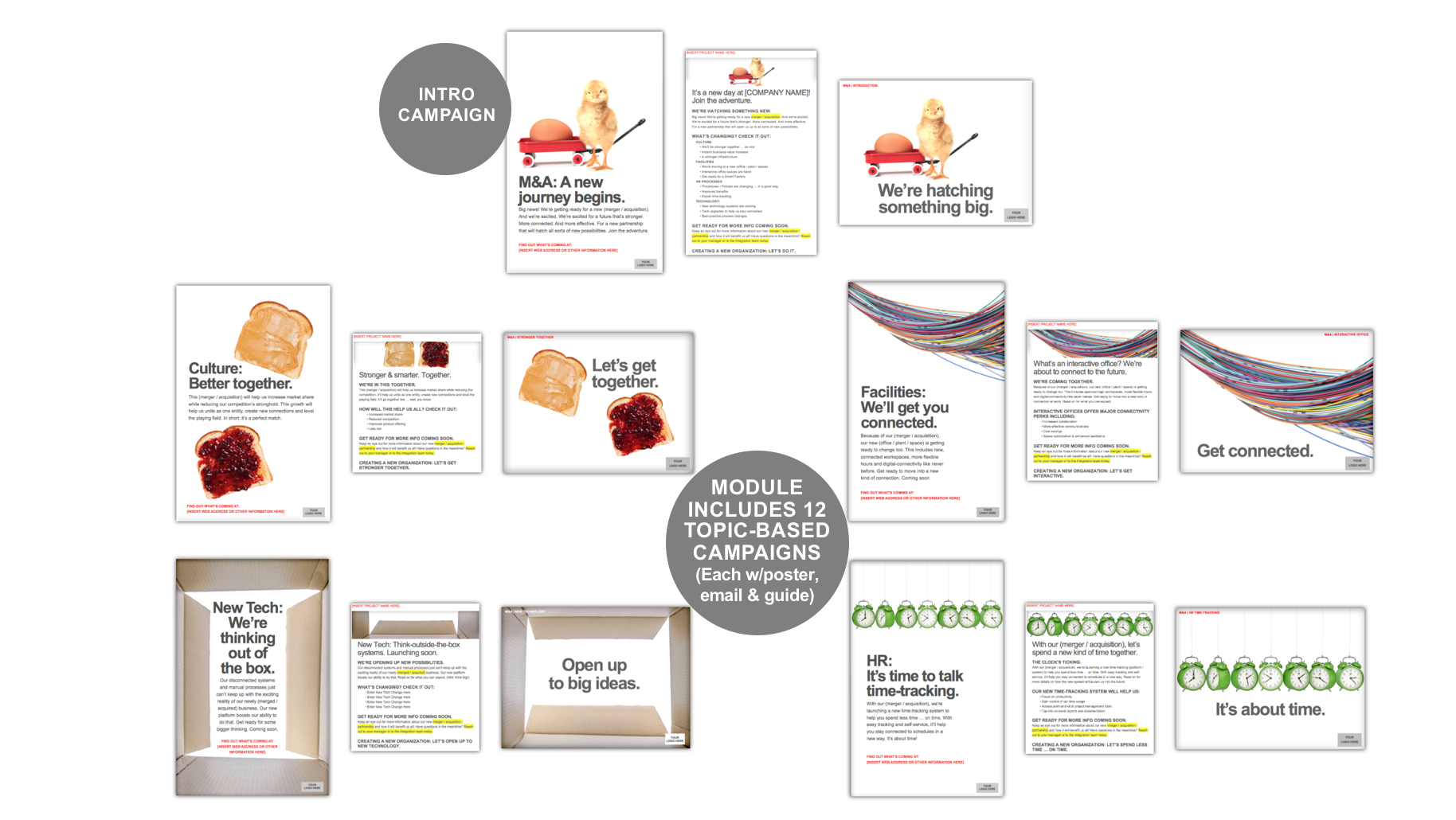 M&A Kickoff Module: "Frank Talk" Theme
Accelerate understanding, engagement and adoption with best-practice "M&A Kickoff" communications!
Module contains 12 ready-made, project communication campaigns PLUS Intro campaign (each with poster, email & guide), 16-page module-specific User Guide, 17 best-practice org change management tools and complete, internal-use stock photography license.

All files delivered in PowerPoint and Word documents via a ZIP file with unlimited usage across your entire company.
13 COMMUNICATION TOPICS INCLUDE:
CULTURE:
Stronger Together

Increasing Our Value

Strengthening Our Infrastructure
FACILITIES:
Where We're Moving

Interactive Office Space

Smart Factory
HR PROCESSES:
Procedures / Policies Changing

Benefits Changing

Time Tracking
TECHNOLOGY:
New Technology Systems

Tech Upgrades

Process Changes

INCLUDES BEST-PRACTICE CHANGE READINESS TOOLS:
12 best-practice org change management tools including a Stakeholder Analysis Workbook, End-User Demographic Inventory, Impact Assessment, Risk & Resistance Analysis, Awareness Measurement Survey, Comms Deployment Planner and more

5 proprietary "Resistance Buster" workshop agendas to diffuse employee sabotage, tension or frustration

Module-specific User Guide with deployment guidance and ongoing change tips

ABOUT THE "FRANK TALK" THEME:
Conversational and fresh, the campaign cuts through the clutter and connects with leaders, managers & employees at an honest level.

Attention-getting photos on stark, white background help comms stand out.

All module materials are delivered in PowerPoint and Word files.

Each communication piece includes a space for your logo; also, text, fonts, colors or photos are easily editable.

ROI & RESULTS:
In a recent customer survey, Frank IT Change Kit customers reported on average:
How much faster are you creating IT communications with the Frank IT Change Kit? 2.5 times faster

Since using the Frank IT Change Kit, how much has IT adoption increased? Adoption has doubled

How much more engaged are employees in company IT project or tech changes? 50% more engaged

How much has IT project awareness increased among employees? 50% increased awareness

How much has the creativity of your communications increased? Creativity has doubled

CUSTOMER TESTIMONIALS:
"The Frank IT Change Kit helped me deliver my project on time and 35% under budget." - Lamprell

"We went live with our first release this week using the Frank IT Change Kit materials … it was the best go live in recent memory. Many times throughout this project, I have been grateful that we went with Frank. Thank you, thank you, thank you!" - Premera Blue Cross

"I love the ease of use of the Kit." - City of Atlanta

"The Kit is extremely easy to use and adds a fun element to our product that gets users excited to use new technology." - GE Power Conversion

"I have enjoyed making use of the Frank IT Change Kit; not surprisingly our team won an award at our annual organizational meeting for Communication!" - City of Port Macquarie, Australia

"My only complaint? I wish we'd heard about the Frank IT Change Kit sooner!" - Toyota